Ukraine Hotel
Address: Institutskaya Street 4, Kiev, 01001, Ukraine
Website: http://www.ukraine-hotel.kiev.ua/en/
1. Basic Information
Ukraine Hotel has one of the best-rated locations in Kiev. It is located in the center of Kiev - on the Independence Square, in a unique place where the cultural, political and entertainment life of the city intersects. Not far from the hotel, there is the Secretariat of the President of Ukraine, the Cabinet of Ministers, the National Philharmonic, the St. Sophia Cathedral, the St. Michael's Golden-Domed Cathedral, the Mariinsky Palace and the park, the most famous Kiev theaters, night clubs and large shopping centers.
2. Price Information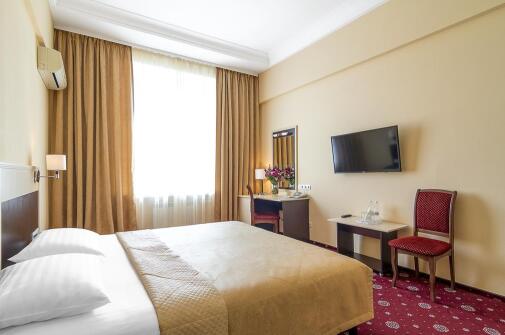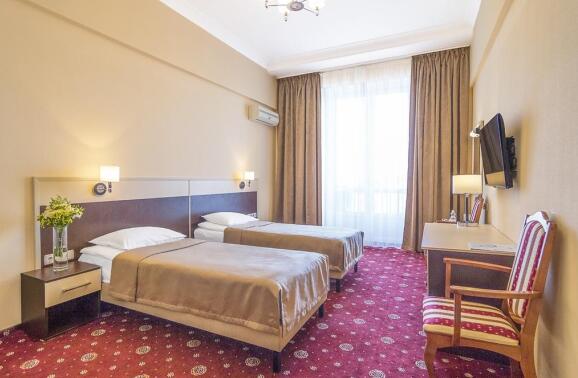 Standard Double Room (for only ONE person) Standard Twin Room (for TWO people)

Note:
a) The fee includes: buffet breakfast (7:00 a.m. – 10: 30 a.m.), Wi-Fi, Tourist Tax (1% of room price) and Insurance fee (20 UAH per each day per person)
b) Check-in Time: 14:00 / Check-out Time: 12:00
c) Reservation Deadline:
May 10, 2019
Room Reservation
♦ Only
40
rooms are available for conference participants. During the conference period, the rooms will be in a high demand, and Hotel Reservation will be made on a first-come, first-served basis, so please make room reservation at your earliest convenience.
♦If you want to book a room from Ukraine Hotel, we suggest that you write to the hotel directly (
reservation@ukraine-hotel.kiev.ua
) with email subject:
MSAM2019 Room Reservation-Name
and also cc to
msam@msamconf.org
for confirmation. The hotel will also confirm the hotel fee with you ($70 - $90).
Your email should contain the following information.
Paper ID:
Name(s) of Guest(s):
Room Type: (Single Room/ Twin Room)
Arrival Time:
Departure Time:
3. Access to Venue
From the International Airport Boryspil
Distance - 35km.
You can take a taxi from the airport or come by SKY BUS to the train station and then use another kind of public transport to get to Hotel Ukraine.
From the International Airport «Kyiv»
Distance - 8km
By taxi to the hotel.
By public transport. Below you can see list of transit routes or routes with Kyiv Airport as a final stop.
Trolleybus No. 22:
from Kyiv Airport to Subway stations: Shuliavska, Dorohozhychi, Syrets than to the Subway stations Maydan Nezalezhnosti or Khreshchstyk;
Trolleybus No. 9:
from Kyiv Airport - Subway stations: Lva Tolstogo Sq. than to the Subway stations Maydan Nezalezhnosti;
Minibus routes No. 169:
Vishneve - Starovokzalna St. (near Main railway station);
Public transport runs from 06:30 till 22:30.
4. Other Recommended Hotels Nearby
To meet the requirements of participants, other hotels with different rates are listed as below for your reference. You could reserve it by yourself via ctrip or booking according to your situation.
Dnipro Hotel
Address: Khreshchatyk Str.1/2, Kiev, 01001, Ukraine
Rates: $55-$120
Premier Hotel Rus
Address: Hospitalna Street 4, Kiev, 01601, Ukraine
Rates: $70-$130